Welcome to the inagural post of What Would Parker Do? or for short… WWPD? We'll explore a slightly different world of wine that hopefully you're enjoy, basically What would Parker NOT do. Remember how your parents always told you to not play with your food? Well in this space, I'm going to play with my food, play with my wine, play with my wine accessories, basically ignore my mom. Just like I ignored her advice to not eat any seafood off the street vendors in Thailand. Didn't get any stomachaches then and I hope not to get any here.
So first off, we've officially hit summer in Southern California. A steady and hot low 90's with beating heat and no wind. Every wine geek in the world has their opinions on what would be the best idea wine wise for keeping cool in the heat.
Personally I'm a sucker for champagne on a hot day and what better champagne than a bottle of Krug?
If anyone is a Facebook "friend" with Krug, you know (or have been told every single day by the person that manages the place) that Krug is in fact luxury, grace, and excellence put into a bottle. So my idea for beating the heat was to put that bottle into a more casual, heat beating form.

Ask yourself, what would Parker do in a situation like this? or… to be exact What would Parker NOT do.
I know what he wouldn't do, he probably wouldn't make Krug into a tasty childhood treat… like say… Krug Popsicles? Krugsicles if you will!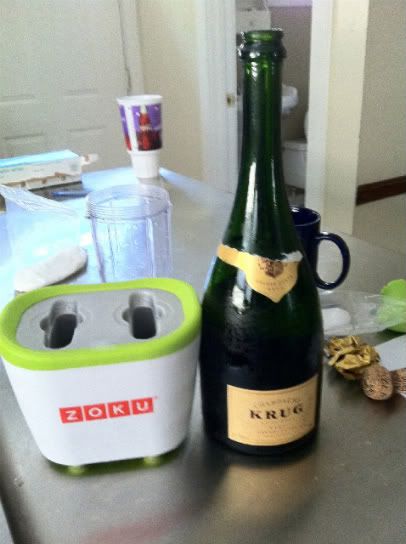 I wasn't sure how well the champagne would freeze so I experimented with a bottle of sparkling wine I had lying around. I bought myself a handy dandy Zoku Popsicle Maker to hopefully expedite the process.The Zoku maker is incredible, you pop it into the freezer for 24 hours, the mold inside freezes. When you take it out, it'll freeze whatever you pour in within 6-8 minutes. After a few batches you'll have to refreeze the mold for 24 hours, but it's quite nice. I've made countless watermelon pops!
I initially just tried pouring the sparkler directly into the maker. The thing solidified enough to pull out, but almost immediately turned into slush. I tried putting the next one into the freezer, but it didn't help at all. Now my problem became that the Zoku maker needed to go back into the freezer, so what else can I use as a vessel for my experiments?
An ice cube tray!
I decided to make a more "popsicle" style treat, seeing if it would help with the freezing. I mixed roughly a cup of sparkling wine, with 1/3rd of a cup of water and a pinch of sugar. This turned out to be close to an almost perfectly formed ice cube, the problem once again was that the center was a bit slushy still.
I used the Googles to see how to fix my problem. It seemed to be that the carbonation was the culprit, so I left the sparkling wine in the fridge overnight and let the fizz go away. The next morning, I put together the same mixture… and walla! perfectly formed ice cubes.
I was ready for the main event. The next day I had the perfect opportunity to show my new summer treat. A few board members were at a post-wedding celebration and I knew I had a chance to have a few taste tasters put on video.
I popped the MV krug and prepared to make the popsicles. After waiting the required 8 minutes I popped out the popsicles… and success!!
You can see below the results and "tasting" notes if it were. Since I only had so many popsicle sticks, I also made a tray of ice cubes for everyone else to try.
I've prepared a video with my preparation and some handy "feedback" from our very own board members, Ryan Curry and Andy Velebil to try out the Krugsicle.
I think this was a success! I'd still rather drink the Krug by itself, but it was not bad in the Krugsicle shape. If you take a bite you get the acid and piercing citrus fruit still so chalk one up to the home team.
Hopefully you've enjoyed the first post here at WWPD and hope to see you back soon for the next installment 😀
Category: Featured, Wine Humor, Wine Science, WWPD- What Would Parker Do? (Blog)