Having recently returned from my first journey across the Atlantic to Paris and the Champagne region, I thought I'd post my impressions on two of my stops.
First, Chartogne-Taillet. My impressions of our next visit, Vilmart, are here:
http://wineberserkers.com/viewtopic.php?f=1&t=15835
The drive out of Paris to Merfy, just north of Reims, took just under an hour and 45 minutes, I can only imagine how beautiful the countryside approaching Reims appears in spring and summer if it was so magical on this raw and foggy winter's morning.
The village of Merfy was small but picturesque, no sign of the evil empire (JK), LVMH, flash and glitz here.
When I rang the doorbell of the farmhouse, I wasn't sure what to expect to be quite honest. Would Alexandre Chartogne even recall our appointment to visit with him? When he appeared at another door a few yards down, I must have looked like a 4 year old on Christmas morning.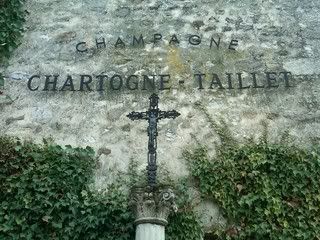 It was astonishing to me that this 26-yr-old winemaker star-in-the-making, who studied under Selosse and others, was so humble and gracious. We took seats in their sitting room just beyond the front gates as our host produced tulip-shaped glasses (and even a Les Imp for comparisons sake) and a bottle of NV Cuvee St. Anne, as we pored over maps of his family's vineyards.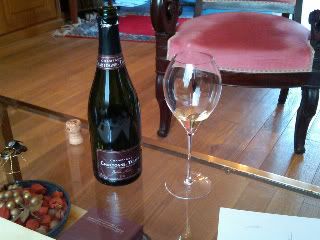 A glass of champagne never lasts long in my hands and I'm not quite sure I finished it as Alexandre produced journals from his ancestors and read a couple of passages about the climate and their winemaking experiences.
It was pretty spellbinding stuff if you're a slave to the bubbly like I am.
Next came the NV BdB and then Alexandre grabbed a bottle of 2002 Millesime Brut before heading off to the cave and barrels, where we tasted vin clairs.
He then popped a bottle of the Les Barres, 100% pinot meunier from a single vineyard with non-grafted vines. If I recall correctly, Alexandre thought the sandy soil prevented phylloxera from taking root.
The wine was delicious and distinct, a piquant acidity lifting up the earthy and hearty flavors.
We then wandered back to the sitting room while he greeted family, then we proceeded down the street to one of the family vineyard plots. We followed down the cobblestone street, then ducked between two stone walls littered with dead leaves and a gorgeous scene unfolded, vines awash in the fog, sunlight peeking through the breaking clouds.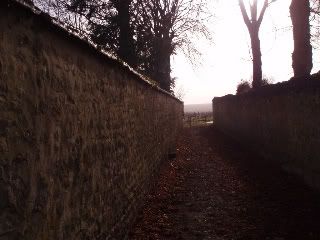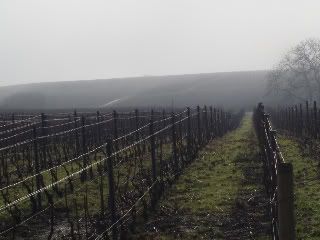 Back at the property again, I asked if we could purchase some wine and Alexandre deferred, generously giving us several bottles to celebrate the New Year with.
An absolutely special visit, and I'd heartily recommend reaching out if you find yourself anywhere near Merfy.