I've been pretty busy, so it's taken awhile for me to finish my report on the Anderson Valley Pinot Noir Festival Grand Tasting, but here it is...
I attended the 5/17/14 Anderson Valley Pinot Noir Festival Grand Tasting and wrote a report for the Grape-Nutz.com website. A portion of the report is below – there are more comments on tasting, more photos, and tasting notes on over 90 wines from more than 40 producers here:
Anderson Valley Pinot Noir Festival – 17th Annual Grand Tasting, 5/17/14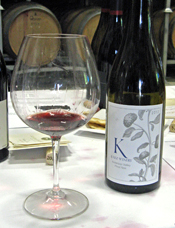 Report on the 17th annual Anderson Valley Pinot Noir Festival Grand Tasting, held on Saturday May 17th, 2014. The annual event is presented by the Anderson Valley Winegrowers Association and focuses on current Pinot Noir releases from the Anderson Valley AVA.
The Festival started on Friday with an all-day Technical Conference, which included a number of topics including strategies for the dry California season, tannin profiles of Anderson Valley Pinots, a tasting of Pinots from Angel Camp Vineyard, "Postmodern Winemaking" with author Clark Smith, and more. This was followed by a barbecue on Friday evening at Foursight Wines. On Saturday morning there was a small Press Tasting at Balo Vineyards, featuring Pinot bottlings from a number of wineries. The centerpiece of the Pinot Noir Festival was the Saturday Grand Tasting, held under a huge tent at Goldeneye Winery. Sunday was winery open house day, with nearly 25 producers opening their doors for special tastings, food, and music. I attended the Saturday Press Tasting and Grand Tasting, and my notes below are from those parts of the Festival.
Anderson Valley is a cooler-climate region in western Mendocino County. As with many such areas in California, there is a break in the coastal mountains that allows cool ocean air and fog to flow inland. The valley runs from southeast (where the valley's largest town of Boonville is located) to northwest (the small village of Navarro is there), with the town of Philo in the center. Winegrapes were first planted in the valley in the late 1800s by Italian and Swiss immigrants, but the wine industry and most vineyards in the area disappeared during Prohibition. Modern wine history in the valley began in the mid-1960s when Dr. Donald Edmeades planted a vineyard, followed in the 1970s by the establishment of new wineries including Husch, Navarro, Lazy Creek, and Greenwood Ridge. The Anderson Valley AVA was formed in 1983. Today, Pinot Noir is by far the most widely-planted grape variety in the valley, while Chardonnay heads up the acreage of white grapes, followed by Gewürztraminer. In all, 17 varieties of winegrapes are currently grown in Anderson Valley.
The Anderson Valley Winegrowers Association is a non-profit trade organization founded in 1983 to promote the grapes and wines of the Anderson Valley AVA. The group also helps support the community through its benefit auctions. In addition to the Pinot Noir Festival, the Association has also held the International Alsace Varietals Festival each February since 2006, and along with the Winesong charity group, they co-present the Anderson Valley Pinot Noir Celebration in September. There are currently over 100 winery, vineyard, and associate members of the Anderson Valley Winegrowers Association.
Overall Impressions
I got an early start on Saturday morning to drive from Oakland to Philo in time for the Press Tasting, which was held in the barrel room of Balo Vineyards. This relaxed and informal self-pour tasting featured more wines than last year (about 35 producers, up from around 25), all presented on a long table down the center of the space. Technical notes were provided for nearly all of the wines, and these were very helpful for me in writing up my notes on them.
Following the Press Tasting, it was a short walk across the road to Goldeneye Winery, where the Grand Tasting was held. Nearly 50 wineries poured at this year's Grand Tasting, and I was able to taste at least one wine from about 40 of them. I missed a few producer tables I'd intended to visit, including FEL (formerly Breggo), and Black Kite (their table was in an odd location and I didn't spot it until I was leaving at the end of the day). Nearly all of the wines were Pinot Noirs or at least made from Pinot Noir grapes, including some Vin Gris / Rosés and Pinot Noir Blancs. I should make a quick note about the Pinot Noir Blancs – made like a white wine, the grapes were pressed immediately with no juice-skin contact. A few wineries have produced this in the past couple of years – a different take on Pinot Noir that makes good use of extra fruit in large-crop vintages.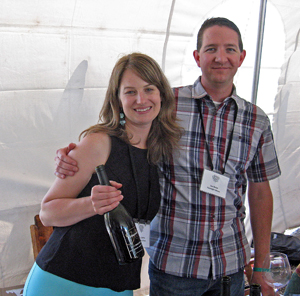 Kristy Charles and Joe Webb of Foursight Wines
Anderson Valley Pinots tend to be on the earthier side for California, with forest floor, mushroom, and tea leaf components often significant parts of the wine. But quite a few show delicate floral elements as well. The softer, prettier Pinots seem to come from fruit grown on the valley floor, while more muscular and structured renditions are more often from hillside fruit – a fairly typical occurrence in many California growing areas. As is the case in other Pinot Noir regions, there's a fairly wide range of pricing for the wines. Some are surprisingly inexpensive for the quality while others boast more ambitious pricing. And beyond Pinot, Anderson Valley vintners also do a fine job with Alsatian grape varieties in particular – some of the best Gewürztraminer I've tasted from California comes from there.
Most of the Pinots poured at this year's Festival were from the 2011 and 2012 vintages, with a few from 2010 and earlier. I noted that a fair number of wines seemed quite young and would benefit from more bottle age – more so than the wines I tasted last year. Even so, I felt that the promise of many of these young wines is so strong that they deserve mention now, even though their peak may still be a few years away.
I thought the quality of wines presented at this year's tasting was very strong overall, and I found more Favorites than last year. Several producers on the Favorites list could have had more than one Pinot there (I limited it to one Pinot per producer for this list). In addition to the Favorites listed here, there were other fine Pinots of note from Bink, Champ de Rêves, Frati Horn, Goldeneye, Greenwood Ridge, Husch, Lichen, Lazy Creek, Philo Ridge, and Woodenhead. Wineries that poured particularly solid line-ups included Angel Camp, Balo, Baxter, Copain, Drew, Foursight, Knez, Navarro, Toulouse, and Witching Stick, and a few others were just a notch below that. Newcomers that made a big impression on me included Avenging Angel and Chanamé.
Anderson Valley is clearly a wine region on the way up. Producers from both inside and outside the AVA are making some very good wines from the area's fruit. And it's a very encouraging sign that newer producers have released solid efforts right off the bat – Angel Camp, Balo, Frati Horn and Chanamé are among that group.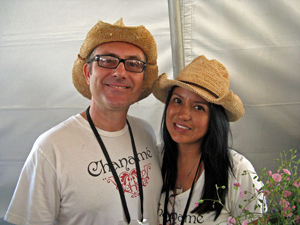 James Hahn and Mila Chanamé of Chanamé Wines
The Anderson Valley Pinot Noir Festival continues to be an excellent event, and well worth the long day-trip for me. The tasting has a relaxed, low-key character that is in keeping with Anderson Valley as a whole. And it's certainly the best opportunity anywhere to taste most of the best Pinots sourced from the area – very distinctive and different from most other California Pinots. I'm certainly looking forward to returning to the Anderson Valley Pinot Noir Festival next year. Until then, bahl hornin'!
Favorites
Whites and Rosés
Angel Camp 2013 Pinot Noir Blanc
Balo 2013 Vin Gris of Pinot Noir
Drew 2013 Vin Gris
Lazy Creek 2013 Rosé of Pinot Noir
Navarro 2013 Rosé of Pinot Noir
Toulouse 2013 Rosé of Pinot Noir
Reds
Angel Camp 2012 Pinot Noir
Avenging Angel 2012 Pinot Noir
Balo 2012 Estate Pinot Noir
Baxter 2012 Langley Vineyard Pinot Noir
Chanamé 2012 Pinot Noir
Copain 2011 "Kiser En Haut" Pinot Noir
Drew 2012 "Fog-Eater" Pinot Noir
Elke 2011 Donnelly Creek Vineyard Pinot Noir
Foursight 2011 "Zero New Oak" Pinot Noir
Knez 2011 Demuth Vineyard Pinot Noir
Lioco 2012 Klindt Vineyard Pinot Noir
Navarro 2011 "Méthode à l'Ancienne" Pinot Noir
On Point 2011 "Christinna's Cuvée" Pinot Noir (Fulcrum)
Stemmler 2012 Estate Pinot Noir (Donum)
Toulouse 2011 Estate Pinot Noir
Waits-Mast 2010 Londer Vineyard Pinot Noir
Williams Selyem 2011 Burt Williams' Morning Dew Ranch Pinot Noir
Witching Stick 2012 "Dowser's Cuvée" Pinot Noir